19.05.2013
Spring:
Spring happened in Toronto in the last couple of weeks. The leafless, grey and brown in between lasted all of April and I felt so lushy rewarded in May. I love the first mutable colours of spring. How can bright pink look green and yellow? I lay down on my porch and looked up at the tree in my back yard. The first reddish oak leaves have begun to bud. Often I look up at that tree and think, "This is MY tree." And then I feel foolish. The oak is 100 years old and just happens to be within the made-up boundaries of my yard. The tree experts say it will live another 100.. It was there well before I was born, and inshallah, it will be there after I die. Like spring, I suppose I am just passing through.
Primary Series:
After my trip to Mysore in September, I stayed with my Mysore practice – primary up to kapotasana for a couple of months. I slowly added poses on and only just recently dropped primary. This week, David added Karandavasana – the pose I was on in August, my last pose. I didn't have a big injury or anything, my shoulder hurt a bit. I did feel like I had no stability in my practice. I felt I couldn't push myself anymore without breaking and I needed to ground. After a month in Mysore I felt so much better, that I decided to keep primary for a while.
Here is a little demo of Karandavasana by David:
And one by Sharath: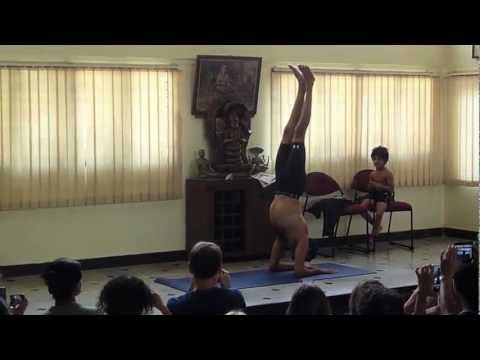 This is a picture of me doing it:
In August, I couldn't lotus up legs without support. After a week of trying now, I can lotus them, and although I fall loudly and obnoxiously, I can feel my legs brush my upper arms as I come down. I feel like this is possible, but in August after months of practice it was not even remotely close. All this to say, I think primary series is amazing. It is restorative, and also strengthening. It is a game changer. I love you primary!
Ralph
My son is quite friendly. Friendly and very sensitive. He says "hello" and "Whacha doing?" to every child he meets. Most kids, because they are kids, just stare at him and continue doing what they were doing. And then Holden stands there for a good five minutes "Hello, whacha doing? whacha doing? whacha doing?" Often I start to feel a little embarrassed for him and so I answer for the kids. Which is a little like when people ask your dog a question.
The other day, David and I were talking about the upcoming changes to Holden's daycare.
David: Does he have friends at daycare?
Stan: The kids seem to like him. He doesn't hit and he doesn't get in your face or anything. He is so friendly with everyone, but
David: Is it reciprocated?
Stan: Well, maybe not. But that might be the age.
David. Is he like that boy on the Simpsons?
Stan: "My cat's breath smells like cat food"
David starts to type away at the computer.
David: Oh god, Stan. You have to see this.
Oh god, my son might be Ralph Wiggum.
I am happy he is friendly, I would rather he was friendly than he just stared at people who greeted him. And I know enough kids that you often don't get to choose whether your kid says Hi automatically or stares blankly – at least for the first little while. I worry in the future that he won't have any friends. But then I worry that my anxiety and worry will crush him and he won't have any friends because he is all twisted. So, I try not to worry and believe that he is strong enough to have bad days and pick himself back up. And then I worry that I am not worrying enough about this whole thing.
If you are thinking about having kids. don't.