16.02.2010
categories:
Ashtanga yoga
,
AYCT
,
Mysore
,
Pregnancy
tags:
Ashtanga yoga
,
Ashtanga Yoga Centre of Toronto
,
ashtanga yoga studio in Copenhagen
,
cockroach vampires
,
copenhagen
,
David Robson
,
KPJAYI
,
Led Primary
,
Mysore
,
Pregnancy and Ashtanga Yoga
,
Stephanie Meyers
,
Twilight
,
vampires
We had led class on Monday to make up for the Sunday moon day, and today was the first day back to mysore-style. My led class yesterday was pretty tough. I had two days off and I felt heavy and stiff. It was insanely packed in the shala and I knocked my head a couple of times on the wall during garbha pindasana. I was happy to get a safe wall spot and the woman beside me was super sweet.
Led primary in Mysore. When I think about how to describe it, it really sounds like the opposite of something a sane person would ever want to do. I show up at the shala at 5am, 45 minutes early, and to sit on the stairs to get a spot when the doors open. When the 4:30am class finishes and the narrow doorway opens, there is a rush of people, elbowing and pushing their way to get in. It is terrifically yogic. Once inside, you set your mat down and wait for someone to come and put their mat basically on top of yours. For the rest of the class, you go through a series of complex geometric calculations, "If I put my leg here, where will he put his leg?/If the person to the right of me moves forward , but the person to the left of me moves back – where can I put my head?" Sometimes, you luck out and the people next to you are small and careful. Sometimes, you are next to a tall, careful person. And sometimes you end up next to someone who feels it is his way or Afghanistan and you spend the next 90 minutes trying to avoid being hit or crushed. David said the led classes are more like a sport than anything else. Australian rugby, cage fighting, led primary at KPJAYI – it is all the same thing.
Anyway, there was none of that on Monday. But I was happy to get back to my practice today.  I think tomorrow will feel even better.
Today we had lunch with Mikko and Helena from Ashtanga Yoga Studio in Copenhagen. David is planning to teach there in September. They are both so lovely, I am really excited to visit. Here is a picture of the good looking Scandinavians.
Helena taught me how to pronounce Copenhagen, which sounds to me a little like Coop-en-haown – with the final "n" acting as more of an idea than a letter in the name. I have to practice.  And of course, Helena said Toronto like a native right away – Ta-ron-oo.
On a different note, this will probably shock and amaze all my dear readers, but did you know if you google "cockroach vampires", this site is the first to come up? Totally unexpected. I might be a pioneer in the field. I thought briefly about making a Stephanie Meyers-esque series with teeanage cockroach vampires. Not sure if it is as appealing an idea as sparkly, brooding, vampire boyfriends. I guess some people like them.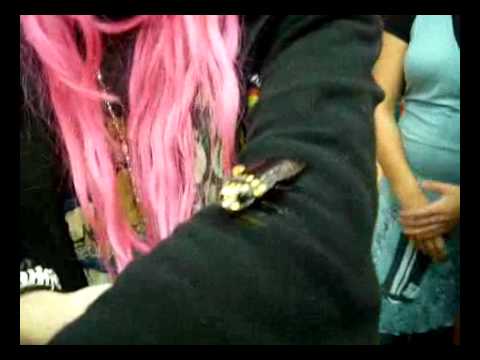 And you just know that everyone featured in that video has read the Twilight books at least twice. Crossover potential!